Paddle boarding has skyrocketed in popularity in recent years. It's a great form of sport because practically every muscle in your body works to keep you going. Have you tried it yet?
As with other boat rentals, we also take SUP enthusiasts upstream, you can go downstream from us, or simply in front of our rafting centre and cafeteria, while paddling, enjoy the beautiful view of "our" famous Kozice hill.
The Kolpa in low water is perfect for paddle boarding.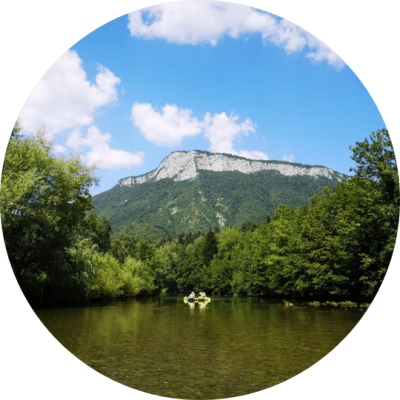 kayaking on the river Kolpa
For the more experienced, you can go kayaking. Just like with rafts or mini rafts/inflatable canoes, you can start your adventure with us and go downstream, or we can take you upstream in our vehicle. Some people test their kayaking skills in front of our rafting centre and refreshment room, where we think is the most attractive dam for this type of water activity.
Do you have a child who can kayak? In the immediate vicinity of our refreshment room and rafting centre, there is a dam where your child can practise and improve their kayaking manoeuvres while you drink a cup of coffee on our balcony and watch them.
KOLPA is suitable for families and anyone with little or no experience
Clean, warm, calm and unpretentious, with a favourable low water level in the warmer months, the Kolpa is perfect for excursions and active holidays with the family.
YOU CAN TAKE YOUR PET ON THE BOAT
If your puppy loves the water, he'll love it if you take him along for an unforgettable adventure.
PRESENTATION OF BOATS
We use Slovenian boats made by GumarMini raft is an inflatable canoe suitable for two or three people. It is slightly slower than a canoe but much more stable. The great advantage of a mini raft or inflatable canoe is that it cannot be submerged. Unless you puncture all the inflatable tubes at the same time. =) Let us mention that this has not happened yet. The shape of the mini raft makes it easy to handle and suitable for both experienced and inexperienced paddlers.